n&d was formed by talented architects Nitin Lonare & Dipti Yadav in 2011. Who share their passion for excellence towards art and architecture.
n&d is a young architectural firm that views design as finding an ideal solution with an aesthetic whole. n&d believes that it is the responsibility of the architect to create diverse, innovative, and exciting environments.
n&d strives to create forms and spaces that are timeless, and we prefer an elegant, dynamic simplicity in our designs. n&d is the one stop solution for design innovation and related professional services.
n&d is a fully integrated architecture design firm specializing in architecture, landscape, and interior design. n&d are competent to handle a wide range of projects from start to completion.
n&d has some of the biggest clients spread all across India, and n&d has been successful in providing them with efficient services, ensuring that our architectural design strategies offer aesthetics, function, and  cost efficiency while using different architectural styles like Modern, Neo-Classical, Art Deco, and Spanish.
The Principal Architect And Founder
Founder & Principal Architect,

n

&

d

Architects, Registered Architect, COA, India, B.Arch, P.R.C.A, Loni College, Pune. M.Arch, B.N.C.A., Pune. (Construction Management)
Dipti has sound experience in Residential, Industrial, and Institutional projects all over India. She is involved in project management and excels in the execution of various projects.
She specializes in Risk Analysis of construction phases. With over 12 years of experience in the field of Architecture she believes in creating and delivering something outstanding to the client.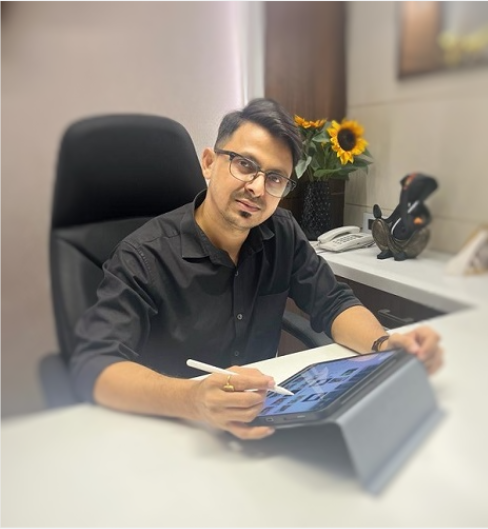 Principal Architect,

n

&

d

Architects, Registered Architect, COA, India B.Arch, P.R.C.A Loni College, Pune.
Nitin has started his career as an Architect with Ar.Hafeez Contractor. He has worked on various projects including residential, commercial, mixed-use development, and institutional all over India. His key skills lie in Art Deco, classical and modern architecture.
Nitin's designs are influenced by the client's needs. Over 14 years of experience he holds the strengths of sketching and expressing his design views. He firmly believes in design as a process and emphasizes on innovative planning to maximize space utilization.